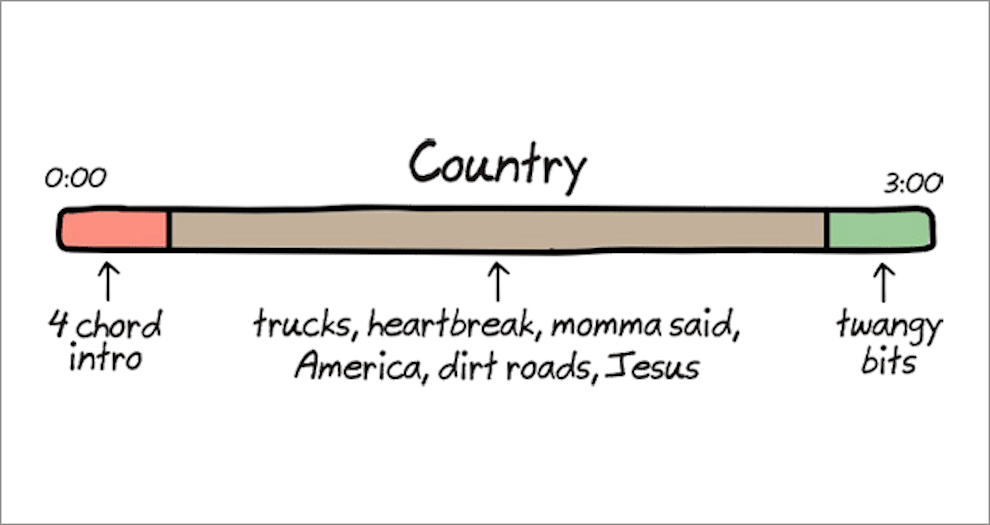 Today's Country Music – Is It Really Country? Do We Just Include Certain Words And Lose Everything – Apparently So
What is country music?  What makes a song a country music song? Is it the lyrics? Is it the music? Does it need a banjo a fiddle or Pedal Steel? or all of the above?
Does it as many suggest, need to include certain topics as the below picture shows or as people joke, do you just have to lose everything including your dog…
Country Music is nothing like how it was when I grew up.   Ok so there was the Nashville sound but Waylon Jennings changed that – thanks mate.   There's nothing new about crossover music either cause that's been done also with country music since well before I was a sparkle in my dads eyes.
I don't know, there's just something that's not quite right about a lot of todays Country Music, I mean cmon Lil Nas X is an American rapper who sings Oldtown Road with Billy Ray Cyrus so yep must be country as he wears a cowboy hat and rides a horse I mean really…
I thought People like George Strait or Travis Tritt or Randy Travis were country and hey we can't forget Johnny Cash, Waylong Jennings and Willie Nelson or Don Williams.
Seems all you have to do is have a sheet like the following, pick the words (any order) and you can write a country song…
Of course who wouldn't want to write 'bro country'… use the following word/topic picker and you too can be a 'bro country' singer and make millions and lets face it if you read the lyrics most don't make sense 😫
Its funny cause people will say they don't like country yet they will sing along and when you tell em they are singing a country song its 'No it aint' and Im like well… yes it is.
Now for those who are a little older, admit it, who didn't watch Smokey and the Bandit and sing 'East Bound and Down' hmm yep that was Jerry Read who wrote and sang that and he's a country singer & songwriter and if you don't know who he is – he drove the truck in the movie and his handle was the Snowman.
And in the picture below is Jerry Reed with Burt Reynolds and another country legend – Don Williams.
To me country music tells a story and the music helps the story on its journey, but, if you believe the old joke about there's country and there's music or you just lose everything then use the below picture and go ahead and write a Country Song.   Me I'll keep telling stories good bad or indifferent and use music, country music to accompany it.
Anyway I have rambled on for too long, hey if you see me out on the road say gday or hit me up on UHF Channel 40
Till next time, take care, yours in country music – Leigh